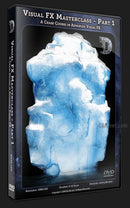 Description
Apps Used:        3ds Max, Unreal Development Kit (UDK July 2013). You can download it free HERE
Duration:            4 1/2 Hours
Instructor:          Jeremy Baldwin
DL Filesize:        369 MB
Project Files:    Provided is the final UPK package file for your reference.

In this first DVD of our 2-part Masterclass series, instructor Jeremy Baldwin begins by giving visual examples to explain volumes in UDK and even 3ds Max using a maxscript. He then goes into creating a material function sub-library which dramatically helps speed up the process when creating other shaders which includes materials such as: custom distortion, multiple vertex animation techniques, and generating fake caustics. Next, Jeremy guides you through creating several unique and power shaders like an ice shader with amazing customization, a very powerful "dust falling" material, and even a dust particle system. If that wasn't enough, he goes into constructing a tiled lava shader with many different variations. From there Jeremy constructs a concrete material that works on world coordinates instead of UVs. Finally, Jeremy demonstrates how to create an incredible holographic door effect inside UDK. He starts the door effect by showing how a custom mesh was created and rigged inside 3ds Max and then moves into UDK to create the script-controllable shader and finally wraps it up by creating the full effect using kismet and matinee.

With over 4 1/2 hours of content, this DVD is perfect for those who want to go beyond the basics and create some amazing and custom VFX inside UDK.

You can save 25% by buying both DVDs in this series from the discount bundle page here:
http://www.cgriver.com/new-release/7546-advanced-vfx-masterclass-bundle.html

DVD Chapters:
00 - 05min - Introduction
01 - 16min - Maxscript Demo
02 - 17min - Unreal Radius Demo
03 - 21min - Water Caustics
04 - 20min - Sprite Dot
05 - 07min - Vertex Static
06 - 06min - Custom Distortion
07 - 10min - Manual Radius
08 - 37min - Ice Shader
09 - 23min - Magma Shader
10 - 17min - Smoke Shader
11 - 09min - Dust Shader
12 - 22min - Concrete Shader
13 - 15min - Holographic Door - Rigging
14 - 38min - Holographic Door - Shader
15 - 30min - Holographic Door - Kismet
Payment & Security
Your payment information is processed securely. We do not store credit card details nor have access to your credit card information.