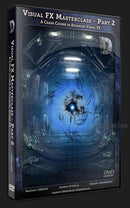 Description
Apps Used:        3ds Max, Unreal Development Kit (UDK July 2013). You can download it free HERE
Duration:            4 1/2 Hours
Instructor:          Jeremy Baldwin
DL Filesize:        440 MB
Project Files:    Provided is the final UPK package file for your reference.

In this second DVD of our 2-part Masterclass series, instructor Jeremy Baldwin begins by taking a look at creating custom geometry that will used to construct multiple energy shaders and particle systems in UDK. He then moves on to create a quick and unique master lens flare material. Next, Jeremy shows how to create complex shaders using UV coordinates to manipulate world coordinate parameters and vertex animation. He then goes on to create a stylized shader that is decision dependent and will swap between multiple states to hide or reveal geometry before it plays its animation. Finally, Jeremy gets crazy by redesigning the rocket launcher which comes complete with holographic muzzle flash, distortion based projectile, and energy effects that linger after detonation. This final project is a culmination of everything learned and resembles a dark-matter type weapon that explores many unique methods for animation.

With over 4 1/2 hours of content, this DVD is perfect for those who want to go beyond the basics and create some amazing and custom VFX inside UDK and complete the Visual FX Masterclass course.
You can save 25% by buying both DVDs in this series from the discount bundle page here:
http://www.cgriver.com/new-release/7546-advanced-vfx-masterclass-bundle.html

DVD Chapters:
00 - 04min - Introduction
01 - 10min - Energy - Shapes
02 - 28min - Energy - Shader
03 - 30min - Energy - Realtime Boolean
04 - 20min - Lens Flare - Shader
05 - 18min - Lens Flare - Development
06 - 34min - Drone Scan - Shader
07 - 13min - Drone Scan - Kismet
08 - 06min - Platform - Rigging
09 - 19min - Platform - Shader
10 - 08min - Platform - Kismet
11 - 53min - Dark Canon - Shader
12 - 38min - Dark Canon - Effects
Payment & Security
Your payment information is processed securely. We do not store credit card details nor have access to your credit card information.