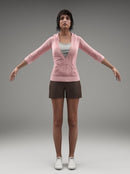 Description
POLYGONS:    ˜3500
RIGGED:         Yes
ANIMATED:    No
TEXTURES:     Yes
MATERIALS:   Yes
BONUS:          Mocap Files
SIZE:             40 MB
DELIVERY METHOD:
Digital Download
CONTENT:
One (1) Full-Body 3D Scanning Human Model ready to be animated. Modeled with Mouth & Eyes geometries (Morph vertex maps not included).
Two (2) eMOTION Motion Capture fi les in .FBX format.
GEOMETRY:
Optimized at ˜3500 Polys for an optimal deformation during the animation process.
RIGGED:
MotionBuilder characterized biped.
ANIMATED:
Ready to load eMOTION Mocap Data or any .fbx motion files.
TEXTURES:
Diffuse, Specular & Normal maps: 2048x2048px (*).
MATERIALS:
MotionBuilder Real-Time Standard with normal maps.
FORMAT:
.FBX compatible with MotionBuilder 2010 or above.
Payment & Security
Your payment information is processed securely. We do not store credit card details nor have access to your credit card information.