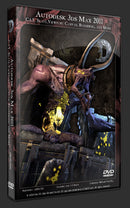 Description
Apps Used:         3ds Max 2011
Duration:             4 Hours
Instructor:           Michael McCarthy
DL Filesize:         578 MB
Project Files:     3ds Max Scenes as seen in the DVD.
In this DVD, Instructor Michael McCarthy goes in depth with some of the most important new features in 3ds Max 2011. Michael starts off with an extensive overview of "CAT" and then goes through creating a custom CAT Rig from scratch and even goes into great detail with using CAT Muscles. Next Michael goes into great detail with the new Slate Material Editor and ends up creating a custom Shader for a Character. Another exciting feature covered is the new Viewport Canvas tools to texture a character head. Other topics on the DVD include rendering with Quicksilver, Rendering out Surface Maps, and more.

This DVD is perfect for those who want to get up to speed fast with many new features in 3ds Max 2011 and how to use them in production.

About the Instructor:

Michael McCarthy is an accomplished 3D artist and trainer from Boston, Massachusetts, USA. Character and FX animation are a few of Michael's passions. Michael has been an author and contributor to many 3ds max books and created training and documentation for 3ds max as well as many of it's most popular plug-ins. Michael is an Autodesk Certified Instructor and teaches at The New England Institute of Art, Siggraph Master Classes, and studios such as CafeFX. His experience on projects such as Spiderman 3, Nims Island, Treasure Quest, and Sims keeps Michael engaged in all nuances of film, broadcast, and games production.
What is a library version?
The Library version allows the institution to lend the DVDs to the faculty, staff, students and other authorized users affiliated with the institution for use on and off institutional premises. Authorized users, however, may not copy the DVDs or lend them to unauthorized users.
If Educational Institutions or any other Studios would like to purchase a copy for Library Use, please purchase the Library version of the DVDs for $195 each. We also have many options from streaming on your intranet, to discounts on bulk purchases, please contact us using the support form for more info on streaming or if you have any questions about the Library Versions.
What is the difference between the DVD version and the Download version?
The DVD version has higher quality video and audio.
The filesize of the DVD version is also much bigger.
Both versions have a resolution of either 1280x720 or 1024x768.
Payment & Security
Your payment information is processed securely. We do not store credit card details nor have access to your credit card information.