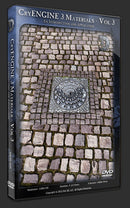 Description
Apps Used:         CryENGINE 3 SDK. You can download it free HERE
Duration:             4.5 Hours
Instructor:           Hélder Pinto
DL Filesize:         1.13 GB
Project Files:     Included are the final CryEngine levels and other files to examine and reverse engineer.
In this third DVD of our series, Hélder Pinto goes into more intermediate and advanced topics now that the basic materials are complete. He starts off by talking about parallax occlusion mapping and shows how to create a really nice road material. Hélder then creates a decal material, terrain material, edge decals, decals, detail maps, scrolling textures, specularity tricks, and blend layers.

This DVD, along with the other volumes in the series, will provide you with an invaluable amount of information needed to start creating your own production materials in CryENGINE 3 SDK today.

You can buy all 3 Volumes and save 30%! Check out the bundle on the bundle page here:

About the Instructor:

Hélder Pinto has been working with CryENGINE for over 4 years and has worked on games such as the award winning "Crysis 2" and "Under Siege". As a Level Artist, Hélder's speciality lays in having responsibility for the for the entire aesthetics of a level, while keeping a close eye on gameplay and performance. For more than a decade, Hélder has gained an enormous amount of experience and respect from within the community for for his outstanding character and artistic caliber. Hélder currently works at Crytek in Frankfurt, Germany on Crysis 3.
What is a library version?
The Library version allows the institution to lend the DVDs to the faculty, staff, students and other authorized users affiliated with the institution for use on and off institutional premises. Authorized users, however, may not copy the DVDs or lend them to unauthorized users.
If Educational Institutions or any other Studios would like to purchase a copy for Library Use, please purchase the Library version of the DVDs for $195 each. We also have many options from streaming on your intranet, to discounts on bulk purchases, please contact us using the support form for more info on streaming or if you have any questions about the Library Versions.
What is the difference between the DVD version and the Download version?
The DVD version has higher quality video and audio.
The filesize of the DVD version is also much bigger.
Both versions have a resolution of either 1280x720 or 1024x768.
Payment & Security
Your payment information is processed securely. We do not store credit card details nor have access to your credit card information.