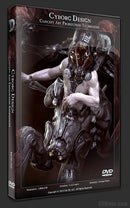 Description
Apps Used:         ZBrush 4, Keyshot, Photoshop, Alchemy
Duration:            5 1/2 Hours
Instructor:          Michael Pedro
DL Filesize:         894 MB
Project Files:     Included are the ZBrush and Photoshop files as shown in the training Videos.
Instant Download
In this DVD, instructor Michael Pedro gives an overview of the techniques he uses to achieve high-quality 3D concept designs, with an emphasis on production-setting workflows. He begins by going over shape ideation in Alchemy and then develops a full page of thumbnails. Michael then proceeds into ZBrush to begin blocking in the major forms and bounces between ZBrush and Photoshop, sketching over screenshots of the in-progress sculpt. The bulk of this DVD will then focus on the development of the final design in ZBrush. He demonstrates how he makes use of insert meshes, kit-bashing, and character posing, in order to more quickly arrive at a presentable design. When completed, he imports the model into Keyshot where he applies various materials and sets up the lighting scenario. Finally, he takes the renders into Photoshop, where he makes the necessary tweaks and touch-ups for presentation. 
 With over 5 1/2 hours of content, this DVD is perfect for those who are looking to integrate ZBrush into their character design pipeline. 
 
 DVD Chapters:
00 - 04min - Introduction
01 - 20min - Sketching with Alchemy
02 - 24min - Creating Thumbnails in Photoshop
03 - 30min - Blocking Out the Form in ZBrush
04 - 23min - Sketching Over the Blockout in Photoshop
05 - 30min - Sculpting the Head
06 - 21min - Sculpting the Back Assembly
07 - 17min - Sculpting the Fingers and Hands
08 - 24min - Sculpting the Arms
09 - 22min - Sculpting the Abdomen
10 - 13min - Adjusting the Arm Sculpt
11 - 18min - Sculpting the Rear Legs
12 - 21min - Sculpting the Front Legs
13 - 04min - Exporting from ZBrush
14 - 12min - Posing the Character in ZBrush
15 - 09min - Rendering with Keyshot
16 - 33min - Painting Over the Renders in Photoshop
17 - 12min - Creating the Final Concept Sheet
Total Time - 5 1/2 Hours 
 
About the Instructor:
Michael Pedro has been working in the gaming industry for over 8 years with companies such as Electronic Arts, Sony Online Entertainment, and Certain Affinity. In that time, he has had the privilege of working on several high-profile projects including DC Universe Online and Halo 4. Michael began his career as an environment artist but was later given the opportunity to shift gears into full-time concept design. This has given him a certain advantage when it comes to the execution of design and presentation, as 3D has become the new staple of top-tier visual development.
Payment & Security
Your payment information is processed securely. We do not store credit card details nor have access to your credit card information.