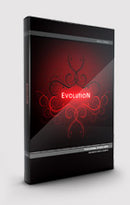 Description
What is Evolution?
Evolution is a collection of high quality decorative design elements for creative
video professionals. We did the boring hard work so you can be the artist.
Evolution
Decorative Design Elements
• 170 Design Elements
• High Definition with Built-in Transparency
• 7 Video Tutorials and Advanced Gallery Page
• 10 Professional Design Projects and more
4GB to Download
Specifications:
Requires: After Effects 7, CS3, CS4, CS5, or CS5.5
Product Specifications:
• High Definition, 20% higher resolution than 720p
• 60 frames per second. Use with NTSC or PAL
• Uncompressed QuickTimeâ"¢ PNG Video & JPGs
• Template Projects at 720p HD, 60 FPS
*DVD Recommended:

With over 4 GBs of data, we recommend that you order a DVD shipment at checkout. Of course, when you order a DVD you can also download while waiting for the shipment to get certain parts that you may need right away. If you have access to a fast internet connection the download will be easier.


Royalty Free Elements
License Agreement
Professional Design Templates:
These project files are only compatible with After Effects 7 Pro - CS5.
Payment & Security
Your payment information is processed securely. We do not store credit card details nor have access to your credit card information.