Description
About finalRender 3.5 SE
finalRender 3.5 SE for 3ds Max and 3ds Max Design is the perfect choice for bigger production houses and advanced users seeking the maximum in quality and flexibility, as well as, mainstream user base.
The product uses the same rock solid Hollywood production-proven rendering core and produce the same rendering results. A complementary copy of finalToon 3.5 is included with a purchase of the version.
finalRender 3.5 SE comes with a vast feature set. To read more about them, click on the Download Features List.

The cebas Non-Photo-Realistic (NPR) renderer for 3ds Max, finalToon 3.5, has also been upgraded with features and functionality. finalToon 3.5 is available as an integral part of finalRender 3.5 SE or as a standalone product.
finalRender 3.5™: Experience The True Power of Rendering!
 


Alice in (Stereo-) Wonderland
The new finalRender SE Stereo Camera offers the 3ds Max user a sophisticated way to reproduce true 3D stereo camera effects from within 3ds Max. cebas was able to develop this 3ds Max rendering solution that has no issues with live action footage, allows proper compositing of existing footage (created with thinkingParticles R4), and matches rendering setups created in Maya. A true 3D stereo camera model into finalRender, it proved to be an ideal rendering solution for major movie productions.
DomeLight
finalRender R3 SE was the rendering system of choice for Uncharted Territory for the 3D VFX in the blockbuster movie "2012." DomeLight proved to be the key lighting method used to create believable and fast global illumination scenery. It also showed great stability in ultra-complex scenes with thousands of animated objects, possessing millions of polygons. It is now faster, smoother and better than before, accelerating both the animation and QMC rendering modes.
---

Compatibility   3ds Max 2015 | 3ds Max 2014 | 3ds Max 2013    
                               3ds Max Design 2015 | 3ds Max Design 2014 | 3ds Max Design 2013
 
---



Ocean Object and Material Enhancements




User input is very important to cebas. The latest feedback on Ocean Material and Ocean Object has led to more fine-tuning and upgrades in rendering and processing speed.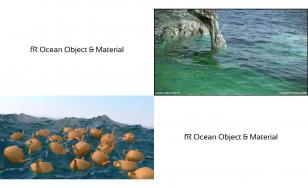 fR-CarPaint2 Material
As the successor of the fR-CarPaint material, fR-CarPaint2 offers vastly enhanced, real-world lacquer and paint effect simulation as found in actual metal car finishes.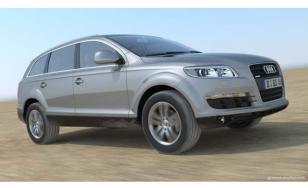 fR Reinhard Tone Mapper Effect
The fR Reinhard tone mapper effect is an all-purpose image tone mapping tool. It is used to strip down HDRI to standard RGB values suitable for display devices such as monitors, TV screens, or for print media.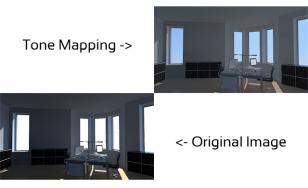 Full License of pyroCluster 3.5
pyroCluster offers state-of-the-art volume acceleration rendering technologies and is one of the fastest, most flexible 3D smoke/cloud generators for 3ds Max.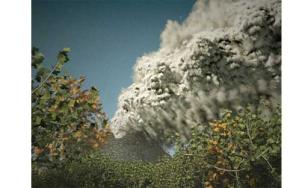 fR-3DGradient: 3D Unlimited
fR-3DGradient is an advanced texture map optimized for maximum flexibility and performance. This new procedural texture map brings the power of the 3d dimension to the user's finger tips.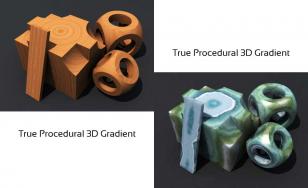 fR-CD: No CD can do without it
The fR-CD shader material manages the interaction of light rays that hit the surface based on true optical effects. A freely adjustable spectral color gradient defines the angle at which a color should be reflected.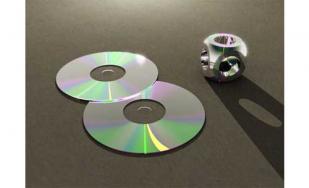 fR-Curvature
fR-Curvature lets you get curvy with its real-time convex and concave shader that takes the curvature of a mesh and maps it with colors, maps, and textures. fR-Curvature is a spectacular tool for masking other maps, as well as creating effects.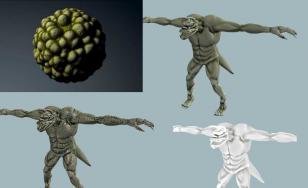 fR-DistantFur Structures
fR-DistantFur is a special fur shader for finalRender 3.5 SE that allows the rendering of surfaces with nearly unlimited amounts of "micro-fur", or short hair. This material render effect works for distant objects only.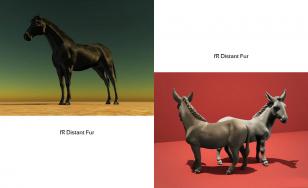 fR-Elevation
For rendering landscapes, mountains, and valleys with sand, rocks, or snow, fR-Elevation offers extensive controls for quick-and-easy setup. An unlimited and expandable amount of layers, each with its own material.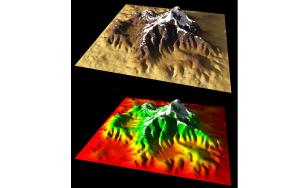 fR-MeshDistance
fR-MeshDistance's main purpose is to automatically fade the texture map to black based on the distance of the respective object to the surface. Its One or more "exterior" objects may also be chosen to measure the distance between the surface to which the map is applied and the picked object(s).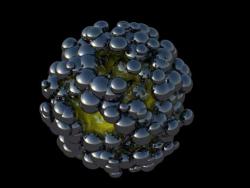 fR-ReWrapper Material
finalRender offers an advanced method to add more control to Render Elements and their 3ds Max output. With the introduction of the fR-ReWrapper material, Render Elements can be individually attenuated by material. A Refractive object in the beauty pass may appear solid, or with a different color in the Refraction Render Element.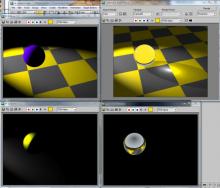 fR-ThinFilm
fR-ThinFilm simulates object surfaces coated with an ultra-thin layer of a different material refracting and reflecting light rays based on the viewing angle and light position.With fR-ThinFilm applied, light hitting an object is split into a user defined color rainbow.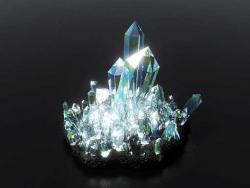 Payment & Security
Your payment information is processed securely. We do not store credit card details nor have access to your credit card information.