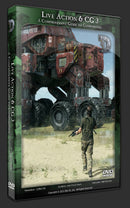 Description
Apps:    Autodesk Maya 2011, Autodesk Composite 2011, SynthEyes, After Effects CS5, Photoshop
Duration:             8.5 Hours
Instructor:           Matt Skonicki
DL Size:                1.5 GB
Project Files:     Autodesk Maya files for every chapter to follow along including all assets, Autodesk Composite files, the original video plate, syntheyes solves and after effects files. What is not included are the final exported Open EXR files due to the extremely large filesize of over 30GB. These can easily be rendered out from the maya scenes provided as seen in the video.
In this DVD, Instructor Matt Skonicki takes you through the entire process of compositing 2 HD Shots with 3D integration. The best part of this tutorial is it uses Autodesk Composite for compositing which ships free with Autodesk Maya 2011. Matt starts off by taking you On Location to demonstrate the capturing of the raw plate and HDRI images. From there he goes through creating the final HDRI image in Photoshop. The next chapters include detailed tracking in SynthEyes, setting up the scene in Maya, creating masks in After Effects, Animation of the 3D objects in Maya, adding particle effects, lighting, and render layers. Last, Matt composites the final scenes in Autodesk Composite.

This tutorial is perfect for those who want an "Out of the Box" comprehensive tutorial on compositing 3D into your own camera footage primarily using Autodesk Maya and Composite.

About the Instructor:

Matt Skonicki has worked in the video game and film industry for over 6 years. During his time at Midway Games in Chicago, he worked very hard to prove his way up from being a cinematics artist to a character technical artist. Matt has worked on such video games as "Mortal Kombat: Armageddon" and "John Woo's Stranglehold" and even received a prestigious excellence award for his contributions. Currently Matt is a visual effects instructor at Columbia College Film School in Chicago Illinois.
What is a library version?
The Library version allows the institution to lend the DVDs to the faculty, staff, students and other authorized users affiliated with the institution for use on and off institutional premises. Authorized users, however, may not copy the DVDs or lend them to unauthorized users.
If Educational Institutions or any other Studios would like to purchase a copy for Library Use, please purchase the Library version of the DVDs for $195 each. We also have many options from streaming on your intranet, to discounts on bulk purchases, please contact us using the support form for more info on streaming or if you have any questions about the Library Versions.
What is the difference between the DVD version and the Download version?
The DVD version has higher quality video and audio.
The filesize of the DVD version is also much bigger.
Both versions have a resolution of either 1280x720 or 1024x768.
Payment & Security
Your payment information is processed securely. We do not store credit card details nor have access to your credit card information.