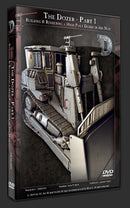 Description
Apps Used:         3ds Max 2010, Photoshop
Duration:             over 9 hours
Instructor:           Laurens Corijn
DL Filesize:         1.24 GB
Project Files:     3ds Max Scene with final High Poly Dozer. Photoshop File with final composition. Render Pass raw TGA files. 2 Maxscripts used in the DVD. Dozer Reference.
In this DVD, Instructor Laurens Corijn demonstrates how to model and render an entire high poly military dozer from scratch. Laurens explains many hard surface modeling techniques that will help you create complex shapes without pinching artifacts when smoothing. Next you will learn how to add a few simple materials and then render out different element passes using Mental Ray. Finally all the render passes are taken into Photoshop where Laurens shows a few interesting tricks on how to composite them and get a final image for your portfolio.

This DVD is perfect for those who want to want to learn many practical hard surface modeling techniques and rending out your highres 3ds Max models for your portfolio.

About the Instructor:

Laurens Corijn is a 3D artist from Belgium currently employed as a 3D lecturer at the University College of West-Flanders. He teaches 3D for realtime applications as well as intermediate Unreal Engine 3 topics. Having been trained in both artistic and technical fields, Laurens prefers to work on projects were these skills are combined. Having worked for broadcast as well as games, Laurens focuses on realtime mechanical 3D art for games.
What is a library version?
The Library version allows the institution to lend the DVDs to the faculty, staff, students and other authorized users affiliated with the institution for use on and off institutional premises. Authorized users, however, may not copy the DVDs or lend them to unauthorized users.
If Educational Institutions or any other Studios would like to purchase a copy for Library Use, please purchase the Library version of the DVDs for $195 each. We also have many options from streaming on your intranet, to discounts on bulk purchases, please contact us using the support form for more info on streaming or if you have any questions about the Library Versions.
What is the difference between the DVD version and the Download version?
The DVD version has higher quality video and audio.
The filesize of the DVD version is also much bigger.
Both versions have a resolution of either 1280x720 or 1024x768.
Payment & Security
Your payment information is processed securely. We do not store credit card details nor have access to your credit card information.