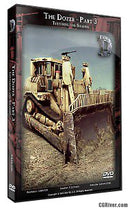 Description
Apps Used:         Unreal Development Kit (UDK May 2012). You can download it free HERE
Duration:             over 6 Hours
Instructor:           Rusty Sempsrott
DL Filesize:         952 MB
Project Files:     Included is the final Unreal maps and packages.
Instant Download
In this DVD, Instructor Laurens Corijn continues from Part 2 of the Dozer series and creates all of the textures and shaders needed to get the vehicle polished, finalized and inside UDK. Laurens starts off by laying the foundations of the textures and even bakes out a few more to get a solid base to start from. He then goes through the full texturing of the diffuse, specular, gloss, and even adding the diffuse details into the normal map. When the textures are done, he goes over how to create a very nice shader using his very own Xoliul shader. Laurens then brings everything into UDK to get it looking great in-game. He goes into great detail about cubemaps and even has a little fun exploring next-gen DirectX 11 features. Laurens finishes by talking about presentation and goes over the simple environment he created.

This DVD is perfect for those who want to learn more about texturing, shading, and presenting their models. A lot of people have mastered the modeling, baking, and mapping (from the previous DVDs) but still struggle a bit with texturing. Proper texturing and presentation can really bring a subject to life and make it look amazing.

About the Instructor:

Laurens Corijn is a 3D artist from Belgium currently employed as a 3D Technical Artist at Splash Damage Ltd. Laurens has also taught 3D for realtime applications as well as intermediate Unreal Engine 3 topics at the University College of West-Flanders. Having been trained in both artistic and technical fields, Laurens prefers to work on projects were these skills are combined. Having worked for broadcast as well as games, Laurens focuses on realtime mechanical 3D art for games.
What is a library version?
The Library version allows the institution to lend the DVDs to the faculty, staff, students and other authorized users affiliated with the institution for use on and off institutional premises. Authorized users, however, may not copy the DVDs or lend them to unauthorized users.
If Educational Institutions or any other Studios would like to purchase a copy for Library Use, please purchase the Library version of the DVDs for $195 each. We also have many options from streaming on your intranet, to discounts on bulk purchases, please contact us using the support form for more info on streaming or if you have any questions about the Library Versions.
What is the difference between the DVD version and the Download version?
The DVD version has higher quality video and audio.
The filesize of the DVD version is also much bigger.
Both versions have a resolution of either 1280x720 or 1024x768.
Payment & Security
Your payment information is processed securely. We do not store credit card details nor have access to your credit card information.