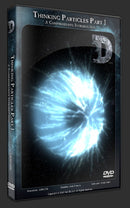 Description
Software:         Thinking Particles R4, 3ds Max 2010, Fusion 5
Duration:             9 Hours
Instructor:           Hristo Velev
DL Filesize:         1.2 GB
Project Files:     Over 40 3ds Max files as seen in the DVD to examine, reverse engineer, etc.
In this DVD Hristo Velev starts from the very beginning by explaining what Thinking Particles actually is and then begins to build upon a solid foundation of theory and technical knowledge of the program. From there Hristo goes through an extensive set of basic concepts to guide you through the massive amount of features in TP4. During that time he creates several practical effects that are very useful in production.

After the basic concepts are covered he then goes through creating an entire project from start to finish to help you understand the entire process. With over 9 hours of training this DVD will help you understand Thinking Particles and start creating amazing effects.

About the Instructor:

Hristo Velev has worked on the movie '2012' as a VFX Artist and has been passionate about effects and also video training for many years. Hristo is known for his many hours of free training on other subjects and is currently working in Berlin at Pixomondo.
What is a library version?
The Library version allows the institution to lend the DVDs to the faculty, staff, students and other authorized users affiliated with the institution for use on and off institutional premises. Authorized users, however, may not copy the DVDs or lend them to unauthorized users.
If Educational Institutions or any other Studios would like to purchase a copy for Library Use, please purchase the Library version of the DVDs for $195 each. We also have many options from streaming on your intranet, to discounts on bulk purchases, please contact us using the support form for more info on streaming or if you have any questions about the Library Versions.
What is the difference between the DVD version and the Download version?
The DVD version has higher quality video and audio.
The filesize of the DVD version is also much bigger.
Both versions have a resolution of either 1280x720 or 1024x768.
Payment & Security
Your payment information is processed securely. We do not store credit card details nor have access to your credit card information.