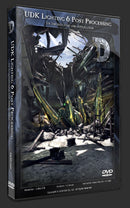 Description
| | |
| --- | --- |
| Apps Used: | Unreal Development Kit (UDK) |
| Duration: | 3.5 Hours |
| Instructor: | Dave Prout & Jim Magill |
| DL Filesize: | Video Files: 724 MB - Project Files: 375 MB |
| Project Files: | Included is the final Unreal maps and packages. |
In this DVD, Dave Prout and Jim Magill go through Lighting and Post Processing in UDK. Together they use over 27 years of combined professional experience to deliver not only great instruction but also many practical applications when putting the final touches on your levels.

Like many of our other DVDs, this video is target for both professionals and those who are just starting to use Unreal Development Kit.


About the Instructors:
Dave Prout co-founded Spark Unlimited which became an award-winning game developer with 120 employees over 5 years. Since then he has been working with UDK to create games and continues making games to this day. Make sure to check out Dave's regularly updated website www.daveprout.com.

Jim Magill has been working in games not too long after he graduated art college in 1996. Since then he contributed to many popular games such as Theif 3 and Deus Ex 2. Jim has been using Unreal Editor 3 for the last 5 years and is currently working on DCUO at Sony Online.
What is a library version?
The Library version allows the institution to lend the DVDs to the faculty, staff, students and other authorized users affiliated with the institution for use on and off institutional premises. Authorized users, however, may not copy the DVDs or lend them to unauthorized users.
If Educational Institutions or any other Studios would like to purchase a copy for Library Use, please purchase the Library version of the DVDs for $195 each. We also have many options from streaming on your intranet, to discounts on bulk purchases, please contact us using the support form for more info on streaming or if you have any questions about the Library Versions.
What is the difference between the DVD version and the Download version?
The DVD version has higher quality video and audio.
The filesize of the DVD version is also much bigger.
Both versions have a resolution of either 1280x720 or 1024x768.
Payment & Security
Your payment information is processed securely. We do not store credit card details nor have access to your credit card information.