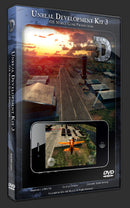 Description
| | |
| --- | --- |
| Apps Used: | Unreal Development Kit (UDK) |
| Duration: | 5 Hours |
| Instructor: | Sjoerd "Hourences" De Jong |
| DL Filesize: | 881 MB |
| Project Files: | Unreal Map and Packages of the final level. |
In this DVD Sjoerd "Hourences" De Jong continues his series and goes through the entire production of creating an iOS game using UDK. Sjoerd starts with a blank scene and immediately begins placing custom meshes and then goes into mobile materials, particles, sounds, and fog. Sjoerd then demonstrates setting up the plane, creating a joystick to control the plane, adding speed/fire buttons, creating destroyable ground targets using prefabs, adding a scoring system and time limits, creating the full HUD and compiling the final. Finally Sjoerd goes into great detail demonstrating how his team ported "The Ball" from PC to iOS.

You will also learn from an Unreal Master exactly how to create or port your games to iOS for playing on iphone/ipad devices.

About the Instructor:
Sjoerd "Hourences" De Jong has been working with the Unreal Editor for over 10 years and has worked as titles such as Huxley, Warpath and UT 2004. Sjoerd recently Designed and directed the UT3 mod "The Ball" that has already won a range of awards in some of the world's largest competitions such as the ModDB MOTY and the MakeSomethingUnreal contest. Make sure to check out Sjoerd's website www.hourences.com for free unreal tutorials, books, and personal tutoring.
What is a library version?
The Library version allows the institution to lend the DVDs to the faculty, staff, students and other authorized users affiliated with the institution for use on and off institutional premises. Authorized users, however, may not copy the DVDs or lend them to unauthorized users.
If Educational Institutions or any other Studios would like to purchase a copy for Library Use, please purchase the Library version of the DVDs for $195 each. We also have many options from streaming on your intranet, to discounts on bulk purchases, please contact us using the support form for more info on streaming or if you have any questions about the Library Versions.
What is the difference between the DVD version and the Download version?
The DVD version has higher quality video and audio.
The filesize of the DVD version is also much bigger.
Both versions have a resolution of either 1280x720 or 1024x768.
Payment & Security
Your payment information is processed securely. We do not store credit card details nor have access to your credit card information.