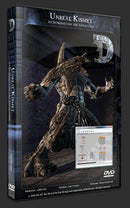 Description
Apps Used:         Unreal Editor 3 (from Unreal Tournament 3)
Duration:             4 Hours
Instructor:           Rusty Sempsrott
DL Filesize:         650 MB
Project Files:     Included is the final Unreal maps and package.
In this demonstration the instructor starts off by giving a detailed explanation of commonly used kismet nodes. Once the foundation is laid its on to creating several interactive scripted sequences. Everything from dramatically revealing a character, to creating a camera fly through for your portfolio is covered. This tutorial is appropriate for both artists and designers.

If you have never used the kismet editor you should be able to follow along and understand. Even if you are experienced using the Unreal Editor 3, you should pick up useful information throughout the DVD.


About the Instructor:

Rusty Sempsrott has worked in the video games industry for over 4 years, working on multiple titles including Blacksite: Area 51 and DC Universe Online. Rusty graduated from Full Sail University in 2006 with a Bachelors degree in Game Development.

Rusty is currently a Technical Design Director at Volition, Inc. in Champaign, IL working on an unannounced project.
What is a library version?
The Library version allows the institution to lend the DVDs to the faculty, staff, students and other authorized users affiliated with the institution for use on and off institutional premises. Authorized users, however, may not copy the DVDs or lend them to unauthorized users.
If Educational Institutions or any other Studios would like to purchase a copy for Library Use, please purchase the Library version of the DVDs for $195 each. We also have many options from streaming on your intranet, to discounts on bulk purchases, please contact us using the support form for more info on streaming or if you have any questions about the Library Versions.
What is the difference between the DVD version and the Download version?
The DVD version has higher quality video and audio.
The filesize of the DVD version is also much bigger.
Both versions have a resolution of either 1280x720 or 1024x768.
Payment & Security
Your payment information is processed securely. We do not store credit card details nor have access to your credit card information.