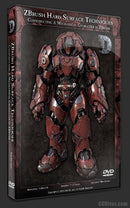 Description
Apps Used:         ZBrush 4
Duration:             7 1/2 Hours
Instructor:           Mike Jensen
DL Filesize:         1.5 GB
Project Files:     Included are the ZBrush files, stamps, and alphas as shown in the DVD. Subtitles Included!
Instant Download
In this DVD, Instructor Mike Jensen goes into depth on many hard surface techniques in ZBrush. Mike starts off by explaining in detail many techniques like customizing the ui, creating meshes, brushes, and stamps. Next he then takes you through the process of creating an entire mechanical character and covers everything from starting with a concept mesh to creating a clean base mesh and detailing. Mike then takes the final model into 3ds Max and uses V-Ray to create materials and render out layer passes. Last he takes the renders into Photoshop to composite them together.

This DVD is perfect for those who want to learn how to create hard surface characters inside ZBrush.


About the Instructor:

Mike Jensen is a character artist from the US who specializes in creating mechanical characters in zbrush. He has created several training packages on ZBrush including the book "Zen of ZBrush" and the e-book "ZBrush Techniques". Mike is currently a freelancer who is dedicated to developing new techniques within ZBrush to produce mechanical characters with the same quality, precision, and accuracy of a traditional 3d modeling package.
What is a library version?
The Library version allows the institution to lend the DVDs to the faculty, staff, students and other authorized users affiliated with the institution for use on and off institutional premises. Authorized users, however, may not copy the DVDs or lend them to unauthorized users.
If Educational Institutions or any other Studios would like to purchase a copy for Library Use, please purchase the Library version of the DVDs for $195 each. We also have many options from streaming on your intranet, to discounts on bulk purchases, please contact us using the support form for more info on streaming or if you have any questions about the Library Versions.
What is the difference between the DVD version and the Download version?
The DVD version has higher quality video and audio.
The filesize of the DVD version is also much bigger.
Both versions have a resolution of either 1280x720 or 1024x768.
Payment & Security
Your payment information is processed securely. We do not store credit card details nor have access to your credit card information.