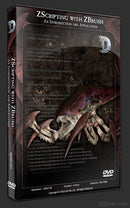 Description
Apps Used:         ZBrush
Duration:             4 Hours
Instructor:           Nick Miller
DL Filesize:         225 MB
Project Files:     ZScript, ZPlugin, and Text files as shown
In this DVD, Instructor Nick Miller gives a comprehensive introduction of ZScripting with ZBrush. Nick starts off with the basics and goes through the creation of a simple script allowing the user to get a firm grasp on the fundamentals by showing how ZScripts are structured and going through the most common commands. From there Nick goes into using variables within a script & UI elements so that you can start building a functional interface. He then demonstrates how to correctly use routines, secondary actions for buttons & the manipulation of subtools by creating a script to hide/show a pre-chosen subtool. From then on he shows how to use more complex commands such as variable lists and saving & loading files and preferences. For the final script Nick shows how to take the things learnt so far and generate a complex feature rich tool which is then compiled into a plugin and shows how to handle complex UI techniques such as changing the button height and creating spacers.

The DVD is a perfect for those who want to learn how to start ZScripting in ZBrush today to increase their productivity or for artists wishing to move from another scripting language and wish to get a head start.

About the Instructor:
Nick Miller is a character artist currently working at Funcom in Raleigh, NC. Before that he was a freelancer and worked at Schell Games in Pittsburgh PA. He has worked on a variety of projects from PC titles to miniatures and even theme park exhibits.
Payment & Security
Your payment information is processed securely. We do not store credit card details nor have access to your credit card information.